DMCA Notice of Copyright Infringement
---
AnimeRam.com is an online service provider as defined in the Digital Millennium Copyright Act.
We provide legal copyright owners with the ability to self-publish on the Internet by uploading, storing and displaying various types of media. We do not actively monitor, screen or otherwise review the media which is uploaded to our servers by users of the service.
We take copyright violation very seriously and will vigorously protect the rights of legal copyright owners.
If you are the copyright owner of content which appears on the AnimeRam.com website and you did not authorize the use of the content you must notify us in writing in order for us to identify the allegedly infringing content and take action.
We will be unable to take any action if you do not provide us with the required information, so please fill out all fields accurately and completely.
You may make a written notice via e-mail, facsimile or postal mail to our DMCA Agent as listed below. Your written notice must include the following:
Specific identification of the copyrighted work which you are alleging to have been infringed. If you are alleging infringement of multiple copyrighted works with a single notification you must submit a representative list which specifically identifies each of the works that you allege are being infringed.

Specific identification of the location and description of the material that is claimed to be infringing or to be the subject of infringing activity with enough detailed information to permit us to locate the material. You should include the specific URL or URLs of the web pages where the allegedly infringing material is located.

Information reasonably sufficient to allow us to contact the complaining party which may include a name, address, telephone number and electronic mail address and signature at which the complaining party may be contacted.

A statement that the complaining party has a good faith belief that use of the material in the manner complained of is not authorized by the copyright owner, its agent or the law.

A statement that the information in the notification is accurate, and under penalty of perjury that the complaining party is authorized to act on behalf of the owner of an exclusive right that is allegedly infringed

.
Written notice should be sent to our designated agent as follows:
DMCA AGENT Email: animeramdmca [at] gmail.com
Terms of Service
---
We do not claim to be the creator of any anime series. We had absolutely no part in any creation of any anime series, and are just dedicated fans of various anime series who have taken their time to create this website.
None of the video content of this website is hosted on our servers or on servers of our staff, family members or otherwise related in any way whatsoever. Unless otherwise stated, all video content is uploaded by and hosted on the servers of third-parties, so called Video Sharing Websites, such as, but not limited to Veoh, YouTube, Dailymotion and Myspace Videos. In case of copyright infringement or any other issue, please directly contact the responsible parties. AnimeRam operates under the laws of the United States of America functioning as an index and database of anime content found publicly on the Internet, in principle conducting in the same way as Google. However, AnimeRam strongly believes in the protection of intellectual property and would be willing to assist when possible and applicable.
Users who upload to these websites agree not to upload illegal content when creating their user accounts. AnimeRam does not accept responsibility for content hosted on third party websites, nor do we upload vidoes ourselves or encourage others to do so. The Anime videos are streamed directly from the third-party video sharing services mentioned above.
We are simply here to encourage the continuing popularity of Japanese Animation, and for many more viewers to watch it. All other trademarks, logos, and images are the property of their respective and rightful owners.
Watch DragonBall Z GT Kai Episodes
---
Click on links below to watch the episodes.
– – – – – – – – – –
Watch Dragonball, Dragonball Z, Dragonball GT, and Dragonball Kai only at AnimeRam.com! Watch Dragonball Episodes Enlgish Dubbed in High Quality.

Dragon Ball is a Japanese manga series written and illustrated by Akira Toriyama. It was originally serialized in Weekly Shōnen Jump from 1984 to 1995, with the 519 individual chapters published into 42 tankōbon volumes by Shueisha. Dragon Ball was inspired by the classical Chinese novel Journey to the West. The series follows the adventures of the protagonist, Son Goku, from his childhood through adulthood as he trains in martial arts and explores the world in search of the seven mystical orbs known as the Dragon Balls, which can summon a wish-granting dragon when gathered. Along his journey, Goku makes several friends and battles a wide variety of villains, many of whom also seek the Dragon Balls for their own desires. It contains themes of friendship, rivalry, personal loss and victory.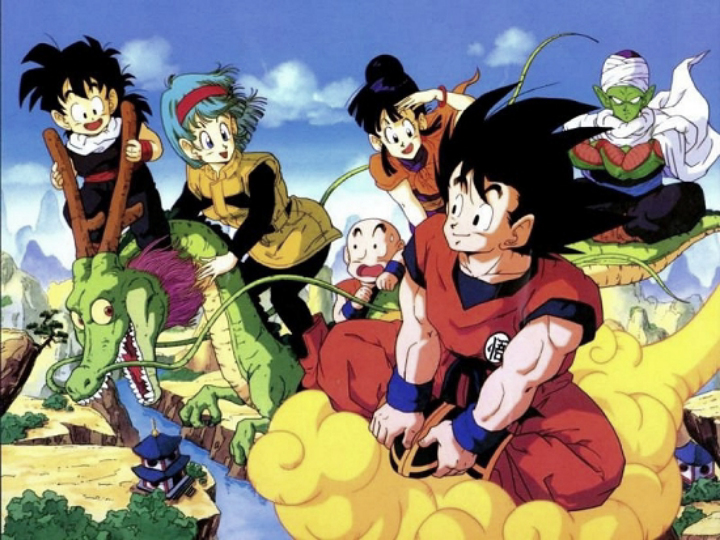 Subscription
---